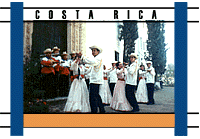 After this recital, Nago de Nicoya and Leon Santana present a project to the Minister of Education of that time, which was joined also by the best soprano of Costa Rica, Amelia Barquero Trejos. As time passed and not counting with a positive answer from the ministry, The Nago de Nicoya Folk Ballet presents his spectacle in the National Bank auditorium.
After this is was presented in different opportunities at the National Theater where he
achieves the "Gold Chaman" during a Latin American Festival.
Visiting towns and cities, it breaks the established scheme by above mentioned groups, because for the first time in Costa Rica a group and complements all the programs and the marimba.
Thanks to an investigation directed by the philosopher and professor, Lic. Alexis Ramirez, who is also an member of the group, they recuperate the most ancient masquerades were built by don Lito Valerín, for this reason there are called "Los Mantudos de Lito Valerín".

Part of the spectacle, are also the individual and group poetry, indigenous dance and areitos, the original and typical songs with the respective chorus, Costa Rican classic music, drama and theater in dance.

Home
1
2
3
4