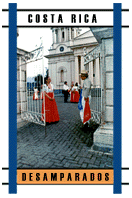 After this is was presented in different opportunities at the National Theater where he achieves the "Gold Chaman" during a Latin American Festival.
Visiting towns and cities, it breaks the established scheme by above mentioned groups, because for the first time in Costa Rica a group and complements all the programs and the marimba.
This work which is presented by 65 members, makes a revolution of the art environment. For the first time in our country a folk group visits Europe. In this way, a gate is opened for Costa Rican folklore and Ballet de Nago de Nicoya travels to Spain with the name: Ballet Nicoya.
After this opportunity and due to the great image caused by Ballet Nicoya at the provinces of Spain, international organizations from UNESCO, mayors, municipalities, etc, showed interest in this group.
Upon returning to Costa Rica, the group changes its name by Primer Ballet Folclórico de Costa Rica, a year leather it changes its name again to Grupo Curime, Tradiciones Populares de Costa Rica, their office since that moment was in Desamparados, where it becomes and association and a foundation.