1974: I got its first name: Ballet Folklorico de Nago Nicoya".
During the same year, on June 29, it makes its first performance at the Banco Nacional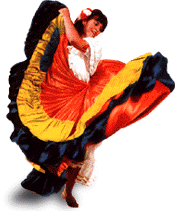 de Costa Rica Auditorium, a few months later the name of the group changed to "Primer Ballet Folklorico de C.R.".
1975: During September it traveled for the first time to a foreign country, and it was to Spain, "Cervantes Lands", including: Sevilla, Cordoba, Huelva (special performance in Universidad de Rabida), Jerez de la Frontera, Madrid and Pamplona.
1976: They made their first performance at the Costa Rican National Theater to commemorate the First Latin American Folk Festival.
1977: They travel inside the countries and have different performances in the following cities: Tilaran, Nicoya, Cañas, Turrialba and Limon.
1979: during this year they change their name definitely to "CURIME", this because it was necessary to use a folk symbol in order to call the costarrican´s attention in a stronger way. The group represents the Chorotega indigenous race, in Nicoya, dances representing the time before arrival of the first Spanish in America, the activities of the warrior prince Curime, Nayuribe´s husband, a beautiful girl with Royal blood of the same tribe. Today there is a small town in the former city of Nicoya which honors the extinct chorotega warrior. From this history comes the name of the group, CURIME, which means loyalty, heroism, love and cultural ancestral race.