1991: Curime´s Director, Nago de Nicoya receives a Tribute at the Liceo de C.R. to commemorate the Closing of the Civic Week which is named "Nago de Nicoya".
During the same year, Curime participates with three musical divisions at the Folk and Handicraft Festival organized by the Ministerio de Cultura, Juventud y Deporte and the Asociacion de Grupos Folkloricos Costarricenses. They participate in the World Folk Festivals in Spain, traveling through the Vasca side of the country and the French country.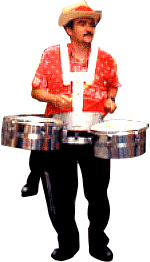 1992: They participate in different activities inside the country but specially in the International Arts Festival organized by our country. This year Curime is preparing its trip to the celebration of the Anniversary of the Jeux Santons Festival, France and to the celebration of the 500 years of two worlds meeting in Spain and to the celebration of the International Festival in Athens, Greece. They participate in the Pirineos International Festival.
1994: They participate at the World Festivals at Jeux Santons, France, Montrejeau (Pirines) Reims, Cuffe, etc.Visit to Belgium and participation in several international festivals, including Brussels.
1995: The professor, Patricia Vargas Gonzalez, Dance and Ballet Director at Curime, travels to England, to receive Improvement Training for Dance and Ballet at the Royal Academy.
Due to the voluntary labor that we do and to the prestige we have won through the many visits to foreign countries and international folk festivals in Europe and America, we have always counted with this kind of help regarding airplane tickets.